Since the successful launch of Google Sheets Add-on in 2016, we also learned the limitation imposed by third party's platform. No one enjoys babysitting a program. We revamped the great Add-on and made it even better. Now, with our proprietary Bulk Lookup Sheet, you can finish up to 2,0001 barcodes lookup in one click.
Import
You must save all your UPCs in a .csv file, one per line. The file piker dialog only allows you to choose a file with .csv extension. The free version imports the first 50 UPCs from your file. If you're serious about the Bulk, please subscribe the paid plans. It allows you to import 2,000 UPCs per sheet. If you'd like a header line, it must be upc. A sample file looks like,
upc
009800002993
010700807274
012000001307

Lookup
Click the row you would like to start from. The program will pickup from there. The fetching process might stop for unexpected errors, such as network error, server errors.
Stop
We though you might enjoy a full control.
Export
The exported file products.csv can be located in your browser's Download folder. Don't Clear or Import another file before Export your current sheet.
Clear
The application uses your browser's local storage to store fetched data before Export. In case your machine crashed or browser was closed unexpectedly, you would not lose what you already retrieved. But you might want to Clear the sheet to spare the browser's storage for other applications. Please be noted that Import another file would Clear your current sheet also.
Tips and Caveats
Plan DEV subscriber need to login to your account and use following link.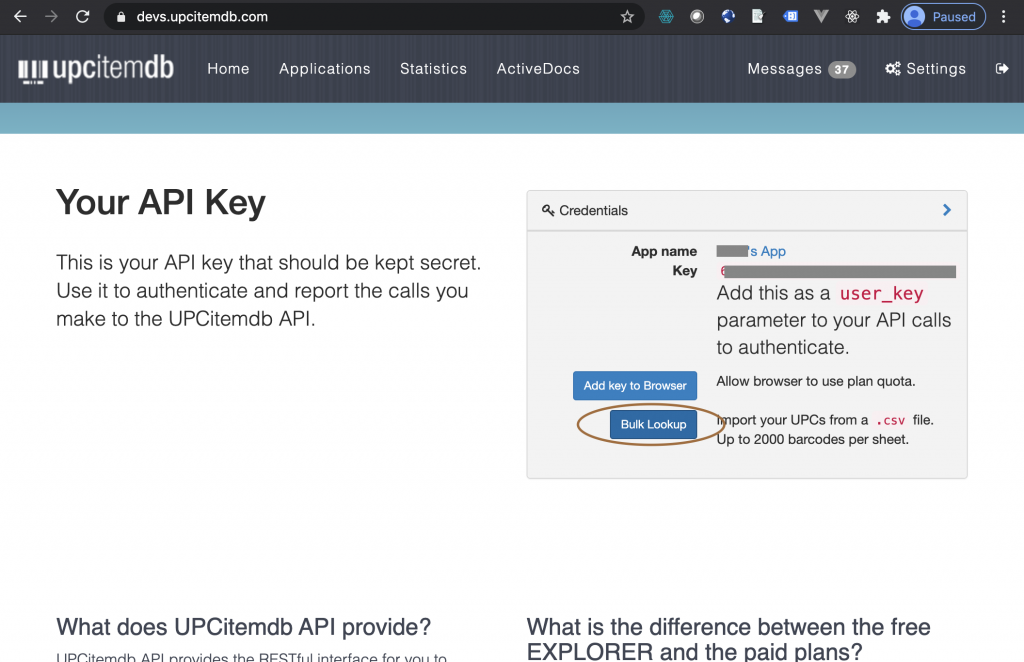 The bulk lookup process running in your computer's browser requires the browser tab to be always in foreground. If you start the Lookup in one browser tab and start working on something in another tab, the lookup process will be paused. You need to move the tab out into a New Window.
1  2,000 UPCs per sheet for any paid plan, 50 UPCs for the free version. The program might stop for other issues, ex. network problem, server errors.